Wigan approves updated Astley Point plans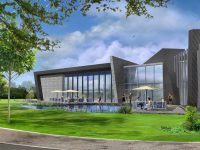 Last week Wigan Council's Planning Committee approved the updated plans for the 4.5 acre Astley Point, a £9 million development, by Salcaul Limited on Higher Green Lane, Astley.
Set in beautifully landscaped surroundings, Astley Point will comprise:
12 luxury one and two bedroom apartments (ranging from 600 sq ft to 1,345 sq ft) in two new, three storey buildings.
Two 1657 sq ft, three bedroom exclusive penthouse apartments (one in each building).
14 new family homes
High specification including designer kitchens and bathrooms
Modern appliances
Secure parking for all residents
New dining and entertainment destination.
New landscaping including a water feature and extensive planting
Sean McCaul, director, Salcaul Limited said:  "We are thrilled our updated proposals for Astley Point have been approved.  Having listened to feedback about our original approved plans, we realised many local people interested in Astley Point prefer houses to apartments, so we decided to change our plans to make sure we provide homes local people will want to live in.
"Our architects Cartwright and Gross have created a truly exciting scheme for the site which will set the new homes and leisure opportunities in stunning landscaped surroundings informed by the local heritage, history and countryside.
"We've received a significant amount of interest from people wishing to live at Astley Point and also had a huge amount of interest in our commercial leisure space.  I hope to be able to announce our first operators very soon."
Councillor David Molyneux, Wigan Council's cabinet member for regeneration, said:  "The population of Wigan Borough is growing, in fact by 2026 it's predicted we'll need an extra 13,500 homes to keep up with demand. Wigan Council is committed to ensuring we have enough homes for local residents and so we are pleased that this application, in the popular village of Astley has been given the green light. The high quality development will not only bring new homes to Astley, but will also create over 70 new jobs. I look forward to seeing the scheme take shape."
Salcaul Limited is making a £9 million investment into the development and envisages over 70 new permanent jobs will be created at Astley Point.  The Environment Partnership has developed the landscape designs while planning advice was provided by Euan Kellie Property Solutions.
Salcaul Limited is a joint venture between Salboy and Redwaters and has been set up specifically to deliver Astley Point.  Salboy, is a company owned by Fred Done and Simon Ismail who develop schemes throughout the UK.
Simon Ismail said: "This is the first project we have undertaken in Astley and we are really looking forward to producing a first class development that will provide much needed facilities for the local area."
Redwaters is a privately owned property development business based in Astley that has been building homes in the North West for nearly 40 years.  During this time it has forged a reputation for high quality bespoke schemes with a particular emphasis on the Astley area with the most recent projects being Astley Brook and Chaddock Hall.
Anyone wishing to register interest in buying a home at Astley Point should visit www.astleypoint.com
News of the planning permission was covered in regional press including Insider and Leigh Journal.