Two join OBI Property building consultancy team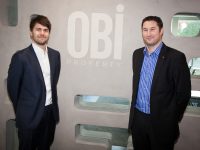 OBI Property has announced Martin Gizzie and Chris Howson have joined its building consultancy team, taking it to 7 people. OBI Property now employs a team of x across the whole business
Martin and Chris will primarily assist the building consultancy team on project management contract administration and dilapidation projects.
Martin has a great deal of experience having project managed many large schemes and building refurbishments. A chartered commercial building surveyor, Martin has been in the industry since 2001. He spent the last 16 months with WYG Group as an associate director. Previous to that, Martin spent 12 years working for Bruntwood.
Martin said: "I am excited to join the team at OBI Property. I admire the passion OBI demonstrates through the projects it delivers. I look forward to putting my experience and skills to good use."
Chris, who has a master's degree in Building Surveying from Sheffield Hallam University, previously spent four years with Gray Scanlan Hill in Manchester. He is working on several Manchester based refurbishment projects for OBI Property's landlord and occupier clients.
Chris said: "I am thrilled to join OBI Property I look forward to pursuing exciting projects with the team and further develop their already extensive service."
Dominic Horridge, director, OBI Property said: "I am delighted to announce the two new members to our team. At OBI Property, we are ambitious and driven by our passion to deliver innovative solutions for our clients.  Martin and Chris will be a great fit for the company and will further strengthening our existing team."
This news was published by Place North West.