Tim Groom Architects receives planning for two apartment schemes in Baltic Triangle and Ropewalks, Liverpool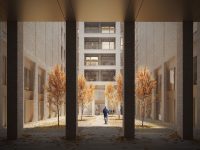 On 28 March 2017, a Manchester-based practice, Tim Groom Architects received planning approval from Liverpool City Council for two, separate residential schemes for property developer Iliad Group – New Bird Street and St Michaels II – located in The Baltic Triangle and Ropewalks areas of Liverpool respectively.
New Bird Street is a 156 apartment development.  The design draws from the historical industrial use of the Baltic Triangle area and the many mills that occupied it.
The building looks to restore the urban edge to the surrounding streets and sets up a perimeter block with an internal courtyard.  The pitched roof form incorporated into the design is a distinctive element within the area both historically and now, through the modern industrial sheds of the Baltic Creative Units.  The dense massing is broken down through a series of larger carvings creating external terraces and deep balconies.
The ground floor will be commercial space, specifically aimed at creative industries which looks to relate to the nearby Baltic Creative.  The units will form a relationship with the internal courtyard creating a vibrant space for residents and commercial occupiers alike.
St Michaels II is the second phase of the St Michaels development and will act as an opening link from Bold Street, through the Ropewalks and ultimately to the Baltic Triangle and historic waterfront.
Comprising 120 apartments, the predominant material in St Michaels II is brick, which is synonymous with the Baltic Triangle.  Significant details such as the entrance foyer will be accentuated with bronze aluminium, while the brickwork will comprise of two tones, with a warm buff/grey to the majority of the building and a darker grey/blue brick forming a plinth element to the lower portion of the blocks.
The news was published by Architects Journal.