Queens House £1.3m refurbishment complete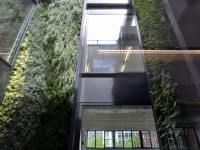 OBI Property has revealed it has completed the full refurbishment of 19,155 sq ft at Queens House on Brazenose Square in the heart of Manchester city centre.
OBI Property advised on the purchase of the building on behalf of clients of CBRE Global Investors last year and since then has designed and project managed the new scheme at the building as well as co-ordinating the landlord's dilapidations and pre-acquisition building survey.
John Clark of CBRE Global Investors said:  "We are thrilled with the outcome of the refurbishment.  It was always our intention to deliver a different product to the market and we believe we have done just that."
Mike Millward, OBI Property who project managed the scheme said:  "The building has a striking new entrance and communal areas, with fully refurbished offices incorporating exposed mechanical and electrical services and a central light well with feature green walls."
Emma Powell, OBI Property said:  "Queens House is in a great location between the traditional prime core and Spinningfields.  We have delivered a building which will attract creative occupiers as well as corporates who want to put a mark on their space.  We have suites ranging from 2,908 sq ft to the entirety of the building of 19,155 sq ft'.
Queens House is another example of how OBI Property is increasingly working with landlords to deliver a holistic service from acquiring the building, to designing and project managing the refurbishment to finally leasing the space.
The building also offers car parking as well as showers and cycle facilities.
The refurbishment featured in Place North West, Manchester Evening News, TheBusinessDesk and Insider.