Digital medical education specialists move to Booths Park, Knutsford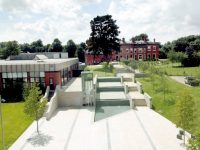 OBI announced online medical education specialist Pastest has acquired 3,495 sq ft on the first floor of Building 3, Booth's Park at Knutsford on an a ten year lease.
Pastest provides revision materials to medical students and doctors. It uses its network of leading medical lecturers, professors and specialist doctors to ensure its materials and revision questions are of the highest quality.
The move comes as Pastest is experiencing buoyant growth as it enters new global markets including the United States. The new office space will not only provide a great environment for current staff but will also help to attract new talent in the future.
The relocation to Booths Park is the latest step in a journey of innovation that started in 1972 when Pastest founder Freydis Campbell published one of the first medical test prep books in the UK from her kitchen table in Hemel Hempstead.
Pastest has ever since been at the forefront of medical test preparation, undergoing a major digital transformation in 2005. Today Pastest delivers high quality and innovative online test prep resources which help medical students and doctors in 190 countries succeed in high stakes exams.
Philip Curzon, CEO, Pastest said: "This is a very exciting time for all at Pastest. Our goal was to create an inspiring environment that helps maximise performance and productivity while encouraging collaboration to drive new ideas. The new open-plan office at Booths Park will help foster the positive and innovative culture vital for our success at the cutting-edge of medical test prep and EdTech.  OBI's work place consultancy team helped plan out and design our space and project managed our move like clockwork."
OBI represented Pastest on the deal and Bruntwood represented themselves.
Andrew Cowell, transactions and asset management, OBI said: "Booths Park is a great location for a business like Pastest. The quality of the workspace and surrounding countryside will mean this is a great place to work for Pastest staff. It's been great working with Pastest and we know they are really excited to be moving to Booths Park."
Sharon Johnson, head of regional sales, Bruntwood said: "We're thrilled to welcome Pastest to Booths Park and hope they and their staff enjoy the quality of the space and amenities we have provided."
Booths Park is set in 220 acres of Cheshire countryside and offers a selection of refurbished Grade A specification commercial spaces.  On-site amenities also include a Philpotts cafe, cricket club, running trails, landscaped gardens, wellness classes, customer community events and lots of parking.
This news story was published in TheBusinessDesk and Insider Media